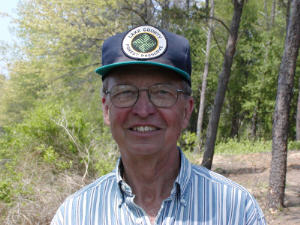 Resident Glenn Green and his wife Nancy, who live near the Teal public access on Lake Waterford have volunteered to restore and beautify the shoreline. Glenn is very knowledgeable about local plants and wildflowers and a certified herbicide applicator. You probably have seen him doing volunteer restoration work in McDonald woods. He is working with the Lindenhurst Parks District and consulting with the Lakes Commission as he removes invasive exotics like Buckthorn and Wild Celery and replaces them with native species of bushes.
Work began the week of May 12, 2003 with clearing of the large Buckthorn trees. Some native wildflowers like Red Trillium are growing in the area and will be protected. Some of the native woodland species have been identified and additional native plants will be introduced. Click to view some of the Teal Access plants and their identification.
A new sign has been placed at the trailhead encouraging us to stay on the woodchip trail to protect the various new plantings. Photos of the original work can be seen below.